Marche itineraries
Blog
Discovering the region Marche
Marche itineraries
Villages in the Marche: Morro d'Alba
Morro d'Alba 0000-00-00
Morro d'Alba is one of the most intriguing and impressive towns in the Marche and particularly of the Vallesina: therefore, if you have a chance, it would be a pleasant experience to come and discover all of its little corners. There are so many reasons why it is so fascinating, the first is undoubtedly its city walls, which are still in perfect condition after all of these centuries. Majestic and impressive, the walls dominate the hills between Jesi and Senigallia: you have the feeling of living in another time.
Itineraries in the towns of the Marche: what to see in Vallesina
In Vallesina, and specifically in Morro d'Alba, you can enjoy a relaxing walk in nature as well as along its ancient city walls that hide a precious secret treasure. Its underground is inviting and mysterious at the same time, and for this reason much loved by tourists. On the other hand, Morro d'Alba can also be the starting point for broader itineraries in the Marche: you can decide, for example, to undertake an excursion in the countryside, as the surrounding area is scattered with agriturismo structures where you can eat or rest.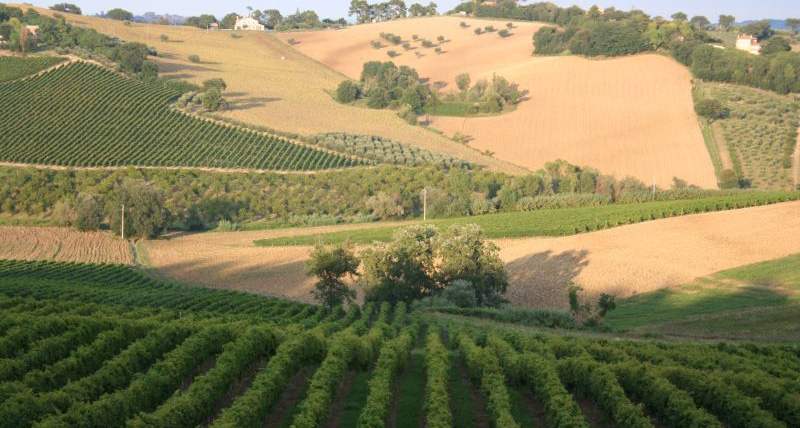 Whether you love mountain biking, horse riding or trekking, you can always find something to suit your tastes and to have fun. The Chico Mendes Park is the perfect example of a sustainable cohabitation: a peculiarity of the park is that for each child born in Morro d'Alba, a tree is planted in the park with a plaque bearing the child's name.
Unforgettable itineraries in the Marche? Morro d'Alba is the one for you
Of course, wine lovers also know Morro d'Alba for another reason: the Lacrima di Morro d'Alba, this valued wine label has been included in the DOC list of the Marche for many years. Lacrima is a unique red wine offering amazing shifts in taste to the palate. It is obtained from a native wine variety with a long history considering that it was already known and used in the Middle Ages and was, in a certain way, revived in the 1980s. Azienda Mancinelli is a reference point for those who wish to know more of this wine and taste it: moreover, there is also a distiller for pomace. If you are free to choose when to visit Morro d'Alba, our suggestion is during the first weekend in May, when the Festival of the Lacrima Wine takes place: a local event held in full spring, attracting the attention of everyone in the Marche, who cannot help but be enchanted by the beauties of this town, its squares and its city walls. Whether you love wine, history or nature, Morro d'Alba is always the right place.