Marche parks and nature
Blog
Discovering the region Marche
Marche parks and nature
Nature and parks in the Marche: the Quercus Park Selva dei Frati
Ripatransone (AP) 0000-00-00
Among the several natural parks in the Marche attracting to the region tourists from all parts of Italy, one of the most fascinating is undoubtedly the Quercus Park Selva dei Frati in Ripatransone, in the province of Ascoli Piceno, located in front of the Teatro delle Fonti, right at the entrance of the town. A park not to be missed, as the very town of Ripatransone is special; as a matter of fact, it boasts the Bandiera Arancione (Orange Flag) awarded by the Touring Club. Located a bit more than 500 metres above sea level, it stands on a hill between the Tesino and Menocchia valleys, with the typical landscape of the Marche, a terrain known as badlands.
The Quercus Park Selva dei Frati is one of the parks in the Marche most loved by children; created in an oak forest characterized by its thick understory, it has a wild soul, this is the secret of its charm. As well as the briefing area, one can choose from an eight-station blue course, a seven-station red course, a seven-station orange course, a five-station green course, two courses for children with ten stations and a green course with a 50-metre Tyrolean traverse. After a compulsory briefing with the instructors, all paths must be carried out according to a specific order, starting from the easiest in order to reach the most complicated.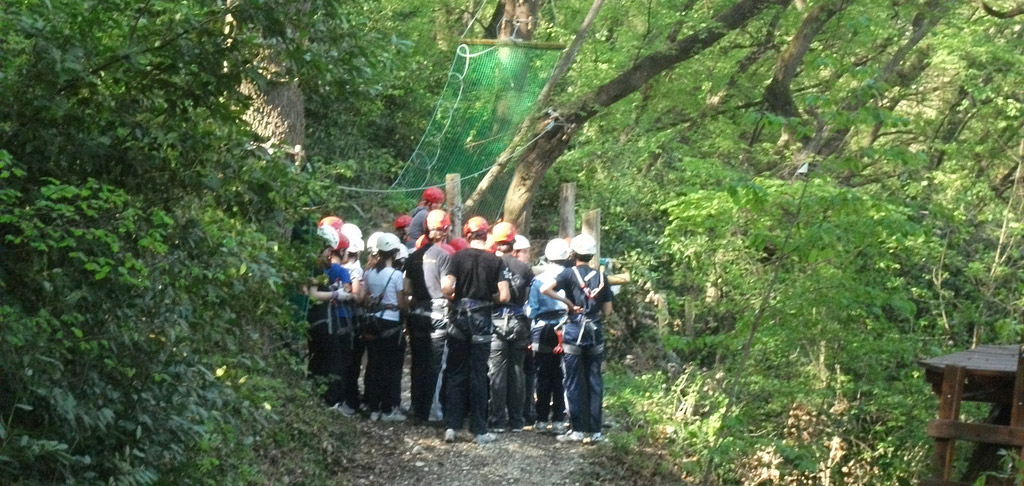 All natural parks in the Marche have a feature that make them unique, and that of Quercus Park Selva dei Frati is undoubtedly its scents and the pure clear air, a far cry from the city smog. Before entering the park, it is compulsory to sign the acceptance of rules, including a waiver of liability. Riders must not weigh more than 100 kg. As far as fees are concerned, the ticket costs 12 Euro for children with a height of at least 140 cm (measured at the wrist, with the arm raised), and 18 Euro for adults and children with a height of at least 160 cm. Discounts are offered to families consisting of two adults and two or more children: the youngest gets free access. Groups made of at least ten people, get 1 Euro discount. All prices include the assistance of qualified instructors and third-party liability insurance, as well as an illuminated camper van area and a picnic area with a barbeque.

Once you leave one of the most exciting and spectacular parks of the Marche, you can visit Ripatransone, to discover its beauties, typical trattorie and traditions: for example, the historical re-enactment of the Cavallo di Fuoco (Fire Horse), taking place at the Octave of Easter, but there are also several other events scheduled during the course of the year; two gastronomic events worth mentioning are Puzzle Gastronomico and Fiori di Maggio.