Marche Art and culture
Blog
Discovering the region Marche
Marche Art and culture
Forum Sempronii archaeological park
Pesaro Urbino 0000-00-00
The archaeological park of Forum Sempronii is an attraction of great cultural and artistic value for the Marche territory: those who visit it will surely carry home with them unforgettable memories.
The visit starts in the area of St. Martino Church, a building of plebeian origin with architectonic lines dating back to the 18th century: on the right hand side of the church there is the entrance, while on the south of Strada Statale 3 Flaminia it is possible to see the visible remains of the city (which, by the way, extended also to the northern part towards the road). Next to the church there is a dolium, a large container used for storage of foodstuff or liquids which in ancient times was usually buried half way into the ground. It is also possible to see stone architectonic elements, brought to light during the excavations in the city area. Throughout the archaeological area there are several explanatory signs, describing and illustrating the zone being viewed.
Parks in the Marche: the importance of the Flaminia consul road
Considering it represented its decumanus maximus, the consul road Flaminia played a very important role in the foundation of the city. The layout of that route is nowadays retraced almost entirely by the Strada Statale 3, which partly overlaps it. Moreover, on the east side, a bit beyond St. Martino Church, on the right hand side of the current road, a portion of the stone paving of the Roman-time Flaminia road was brought back to light.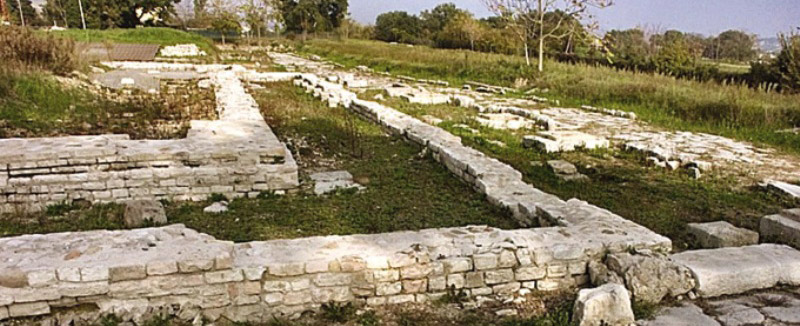 The Forum Sempronii Archaelogical Park therefore allows one to discover how the area used to be; it extended over about 24 hectares and was basically made of rectangular-shaped blocks, called insulae, whose major axis run from the east to the west. The forum area has not been identified yet, that is the public square where the decumanus maximus and the kardo maximus intersect (i.e. the most important road axes); experts believe that one must not take for granted, the possibility that it may be located in the same area where St. Martino Church is currently standing.
A very intriguing aspect is that of the walls, of which today it is possible to only find a few traces; the most common opinion is that back then the city was surrounded by walls, to protect the city in case of attacks from the outside world. It is known, for example, that a Gallic Gate was present, almost surely located in the eastern part. Although, under the former CIA building, there is a preserved portion of city walls, including the attached circular tower. A possible restoration in the near future is not to be ruled out.