Marche Art and culture
Blog
Discovering the region Marche
Marche Art and culture
La Basilica of St. Nicholas of Tolentino
Tolentino 0000-00-00
The Marche is a land of nature, art and gastronomy, but also of spirituality. For this reason, people moved by religious inspiration cannot help but enter into the Basilica of St. Nicholas of Tolentino, considered among the most important sanctuaries in central Italy and dedicated, as the name says, to the Augustinian friar St. Nicholas of Tolentino (b. 1245 – d. 1305), great preacher and thaumaturge, who lived in the monastery of the hermit friars of S. Augustine in Tolentino for 30 years, until his death. St. Nicholas of Tolentino's fame is due to his exceptional thaumaturgical capacities, known ever since he was alive, so much so that his canonization process took place very quickly and ended only twenty years after his death.
This is why the Basilica di St. Nicholas of Tolentino is so important. Today he is venerated as protector of women who have given birth, he is invoked for the difficulties during childhood and invoked as an advocate for the souls in Purgatory. The building was consecrated in the second half of the 15th century; inside there is a single nave with polygonal apse. The wooden panelled ceiling dates back to the 17th century, just like the eight chapels including precious works of art, such as St. Thomas of Villanova and St. Anna of Guercino by Ghezzi. The cloister of the basilica is considered one of the most beautiful and interesting of the region, also because there is located St. Nichola's cell, with its two frescoed lunettes dating back to the beginning of the 16th century, depicting episodes of the saint's life: the cell is now turned into the oratory of the Augustinian community.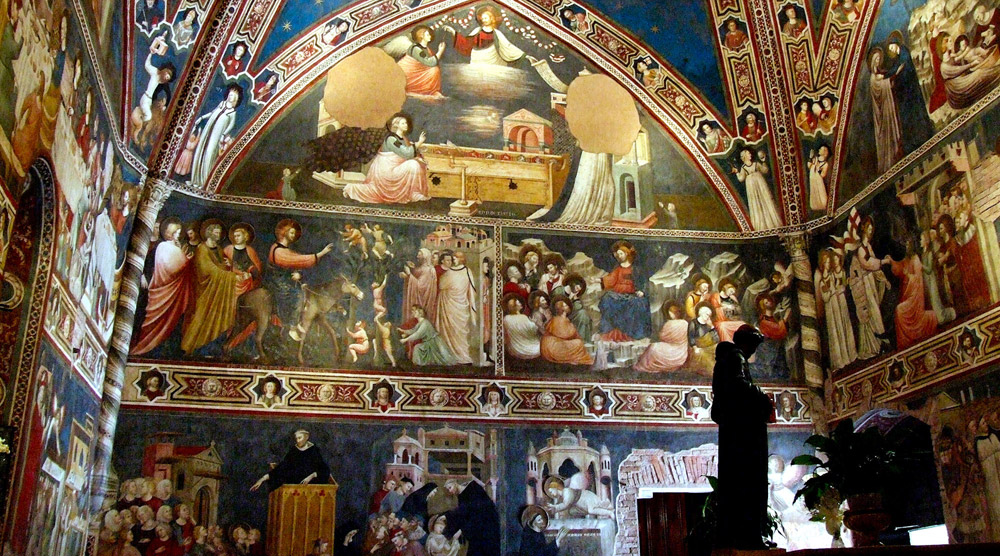 One of the reasons why the Basilica of St. Nicholas of Tolentino is worth discovering lies in the huge quantity and variety of the works of art that it offers. Specifically, the exquisite Cappellone shows the frescoes by Baronzio, Giuliano and Pietro, painters belonging to the School of Rimini; they represent the most valuable testimony of the painting art in the Marche during the 14th century.
A flight of steps then leads to the Museums of the Basilica: it hosts several sculptures and paintings, as well as permanent exhibitions of nativity scenes, precious ceramics and many other masterpieces. When talking about masterpieces, we must mention the real jewels of this religious building, that is The Plague in Genoa by Giovanni Carboncino (even though in other sources it is called The Plague in Venice) and The fire at the Ducal Palace in Venice by Matteo Stom. In summary, it is a mix of art and spirituality, a perfect combination of history and religion, a fascinating union of faith and talent.