Marche Art and culture
Blog
Discovering the region Marche
Marche Art and culture
The Ducal Palace in Urbino
Urbino 0000-00-00
The power, talent and genius of mankind summed up in a monumental work, symbol of The Marche's culture and history
The Marche displays a great variety of monuments and buildings that are worth discovering, not only if you have a passion for architecture but also if you simply want to closely admire a piece of culture and history of the past. The Ducal Palace in Urbino is a clear example: built during the 15th century in one of the most prestigious Italian cities, Urbino, a point of reference for the whole Italian peninsula during the Renaissance.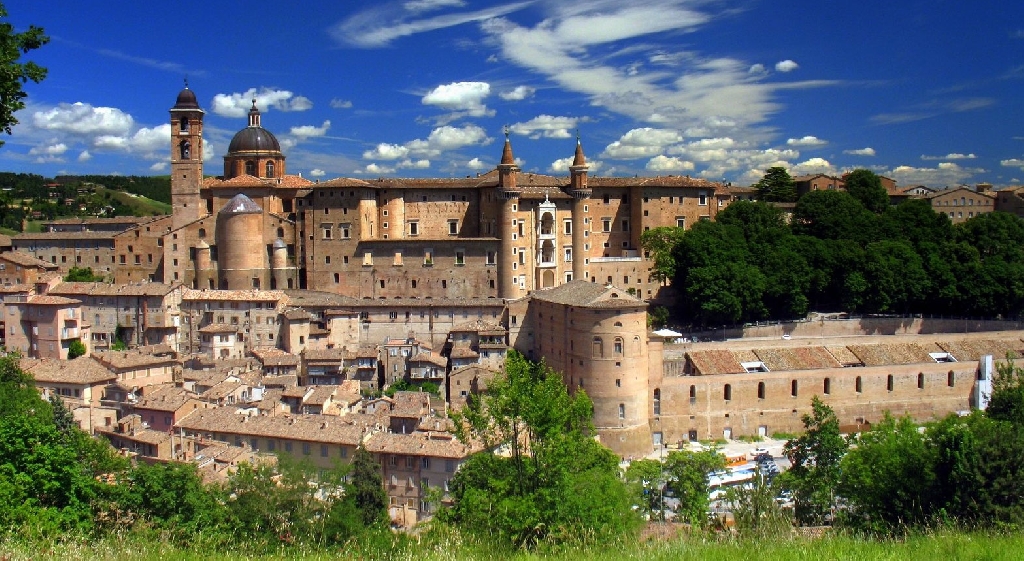 The oldest nucleus of the Ducal Palace is formed by the Palazzetto della Jole, commissioned by Federico, Duke of Montefeltro's father Guidantonio. This 3-storey palace comes from the union of two ancient ducal buildings into a single one, with a simple, yet aesthetically pleasant appearance. Carried out under the suggestions and ideas of Florence-born architect Maso di Bartolomeo, this portion of the palace includes, among the other things, the Apartment of Jole, owning its name to a fireplace decorated with the figure of Jole (and of Hercules). Among the many works of art to admire, there is also a ceramic lunette decorated by Luca della Robbia and once places the Church of St. Domenico.
Among the several architects who gave their contributions to the wonders of the Ducal Palace in Urbino, there is Luciano Laurana, who brought to life the Studio in Urbino, the private room belonging to the Duke, where the nobleman used to withdraw to reflect and study. The facade dei Torricini is also by Laurana, with its fairytale-like style that enchants its viewers. But this is not all: Laurana is the creator of the library, still including an endless series of illuminated manuscripts; of the cour d'honneur, conjugating simplicity and beauty; and of the Throne Room.
Those who visit the various rooms composing the building cannot help but admire the perfection of the lines and the harmony of the forms. Perspective tricks can combine functionality and elegance, thanks to the genius work and commitment of Francesco di Giorgio Martino, another Tuscan architect. Yet, in this array of splendours, we must also mention the many works of art gathered in the Ducal Palace of Urbino, such as Raphael's La Muta, or the various paintings by Piero della Francesca, father of perspective in the Italian painting. In short, the building in Urbino is a real treasure including many other treasures: the beauty of the past emerges in its full strength also in the present, showing the power of talent and genius of mankind.