Marche itineraries
Blog
Discovering the region Marche
Marche itineraries
Fabriano, the city of paper
Fabriano 0000-00-00
Ever since childhood, we have learnt that Fabriano is the city of paper. But not only: despite being famous throughout Italy for its watermarked paper, the city also offers several other opportunities for tourists interested in an intriguing and alternative itinerary. Not only to satisfy one's taste, considering that the salame di Fabriano (Fabriano salami), promoted by the Consorzio di Produzione e Tutela (Consortium of Production and Protection), is a Slow Food Presidium (and those who have never tasted the lard-studded salami of the Marche cannot miss the chance), but also and above all to satisfy the soul.
Among the most important religious buildings, the Cathedral of St. Venanzio is worth a visit. Built in the 17th century, it also includes St. Lawrence's chapel, which is even older as it was frescoed in the second half of the 14th century by Allegretto Nuzi. The Oratorio del Gonfalone, instead, shows a very interesting carved ceiling, with decorations in pure gold carried out in the early 17th century by the French sculptor Leonardo Scaglia.
Another place to visit is the convent buildings of San Dominic, which hosts the Paper and Watermark Museum and where it is possible to admire two precious cloisters from the 15th century as well as a chapterhouse with decorations by Antonio da Fabriano, dating back to the second half of the 15th century.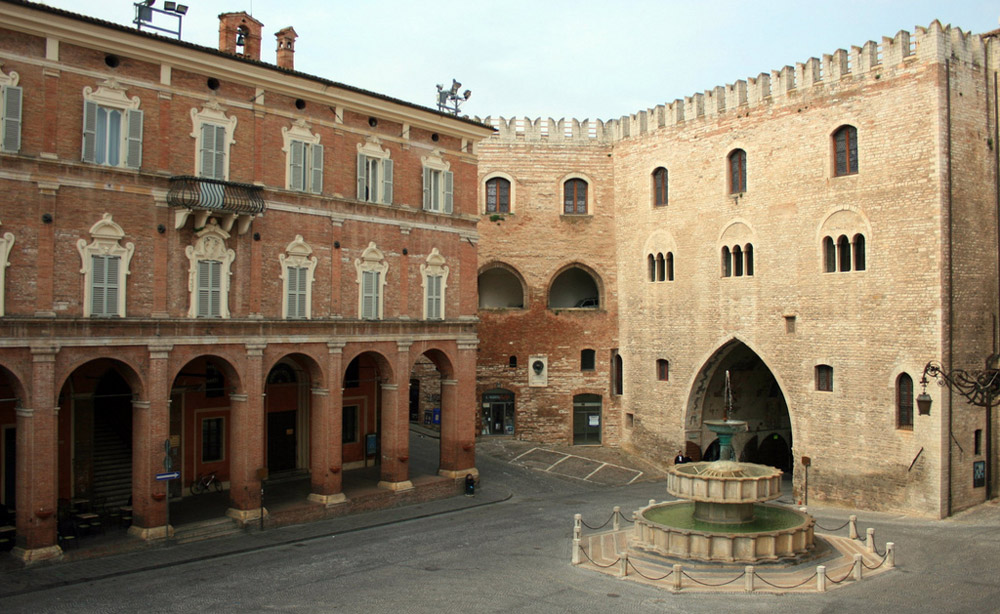 During a walk in Fabriano, you can run across the Palazzo del Podestà, standing in the Piazza del Comune in the city centre: it is a very ancient building, erected in the 13th century, a very interesting example of medieval architecture for the experts of that field. But it is not the only building worth a visit: how can we not mention the former Hospital of Santa Maria del Buon Gesù, hosting the Pinacoteca Bruno Molajoli, which an excellent example of late Gothic architecture? Inside the Pinacoteca there are, amongst other things, frescoes and paintings on boards made by great artists of the past, such as Antonio da Fabriano, Maestro di Staffolo, Allegretto Nuzi, Orazio Gentileschi, Ottaviano Nelli and Andrea Boscoli.
A land of art and tradition, of paper and joy, Fabriano can attract tourists also thanks to its events: an example is the Palio di San Giovanni Battista, held in June, which sees its acme in the so-called Sfida del Maglio (Challenge of the Trip Hammer): in this occasion, four blacksmiths representing the four neighbourhoods of the four city gates, challenge each other in a very particular match to forge a key. Historical re-enactments are very important and cherished, among which there is the Giochi Popolari (Folk Games) with several types of competitions, ranging from the race with the jugs to tug-of-war to stilt walking.