Marche Events
Marche Events
Eventi in the Marche: the Festival of Grass pea
Serra De' Conti 0000-00-00
The Festa della Cicerchia (Festival of the Grass pea) is out of the many events in the Marche, one of the tastiest traditional meetings linked with the territory: it is an occasion to celebrate peasant food that has been present in the territorial cuisine for centuries. There is therefore the need to organize a funny and joyful celebration to get to know and rediscover unique and unrepeatable tastes, digging up memories while keeping an eye on the future. The Festival of Grass pea allows the promotion of quality products and the valorisation of autumnal scents and colours; yet at the same time, it wants to protect and support the right to food sovereignty and promote every productive reality, even the smallest ones.
Events in the Marche: the Festival of Grass pea
The Festa della Cicerchia is therefore one of the events in the Marche to write down in your agenda: in 2015 it will take place on the 27th, 28th and 29th of November. The location is, of course, Serra de' Conti, in its old town centre surrounded by medieval walls. This little jewel, nestled in the middle of the Verdicchio wine lands, could keep its medieval city plan basically untouched and is included in the list of walled cities in the Ancona province which are kept in the best possible conditions. Scattered amongst its alleys and little piazzas, the event wants to highlight the importance and value of grass pea, one of the peasant foods which has always characterized the countryside of the Marche.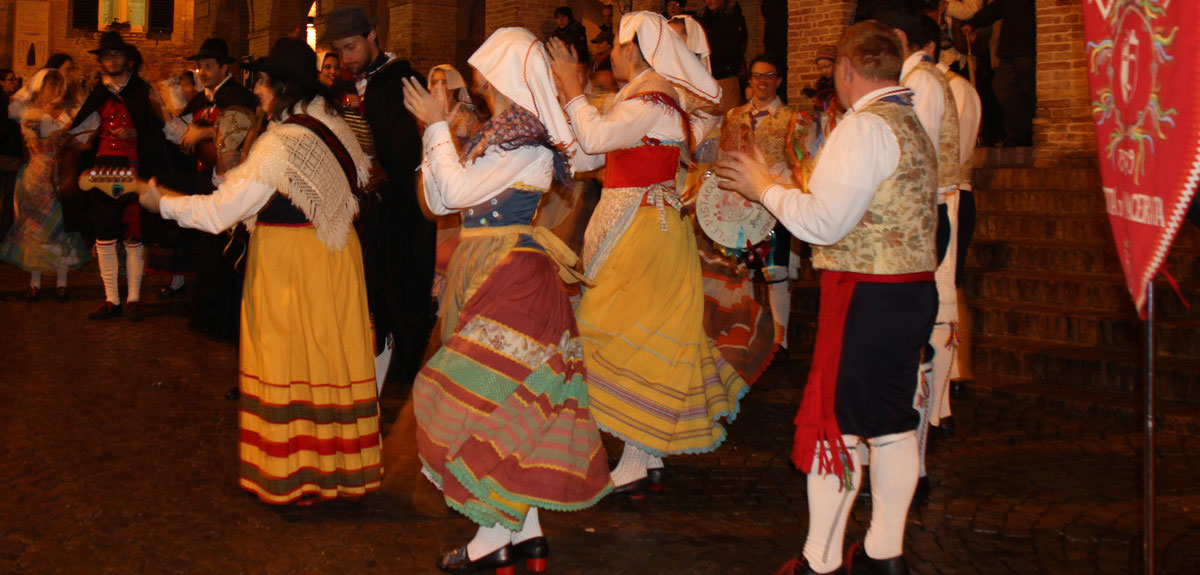 Harvested in the middle of the summer (after being planted in early April), it can survive draughts and it does not need any particular care. The festival, scheduled at the end of November, is therefore a way to discover and to get to know a unique and very important food, which is not only tasty but also a source of proteins and starches.
The tastiest event in the Marche
The gastronomists and chefs are also particularly interested in the grass pea, and they have all the intention to try its taste and to use it in many different dishes. A visit to Serra dei Conti is therefore worthwhile, as it is a town rich in caves, taverns, osterie and inns, where, along with grass pea, it is possible to also taste pappadelle with duck-based sauce and coniglio (rabbit) in porchetta: typical, precious dishes of the culinary tradition of the Marche, together with vincisgrassi al bustringo. And we should not forget the vino novello (new wine), typical of this season, and the other prestigious wine labels which produce wine from local vineyards. Last but not least, the Festival of the Grass pea also offers exhibitions of artistic craft products, wrought iron works and painting shows. The credit for this belongs to the Associazione Festa della Cicerchia (Committee for the Festival of the Grass pea), who reunites all local sports, recreational and cultural associations, managing all of the activities scheduled every year.