Marche parks and nature
Blog
Discovering the region Marche
Marche parks and nature
A journey to the centre of the Marche: the Frasassi Caves
Frasassi 0000-00-00
Is it possible to travel to the centre of Earth? Maybe not, but a visit to the Frasassi Caves might look similar. As a matter of fact, entering one of the Marches' most mysterious and magical locations means to get in touch with the wonder of nature: next to a traditional visit, you can also add in a more thorough speleological tour, which moves away from the standard itinerary to metaphorically enter into the very heart of the caves. During the speleological visit, you leave behind the usual gangway and reach the so called "Polar Bear": this is where the other itinerary begins. Guided by expert speleologists, you can touch with your own hands the caves, with its mud and tunnels.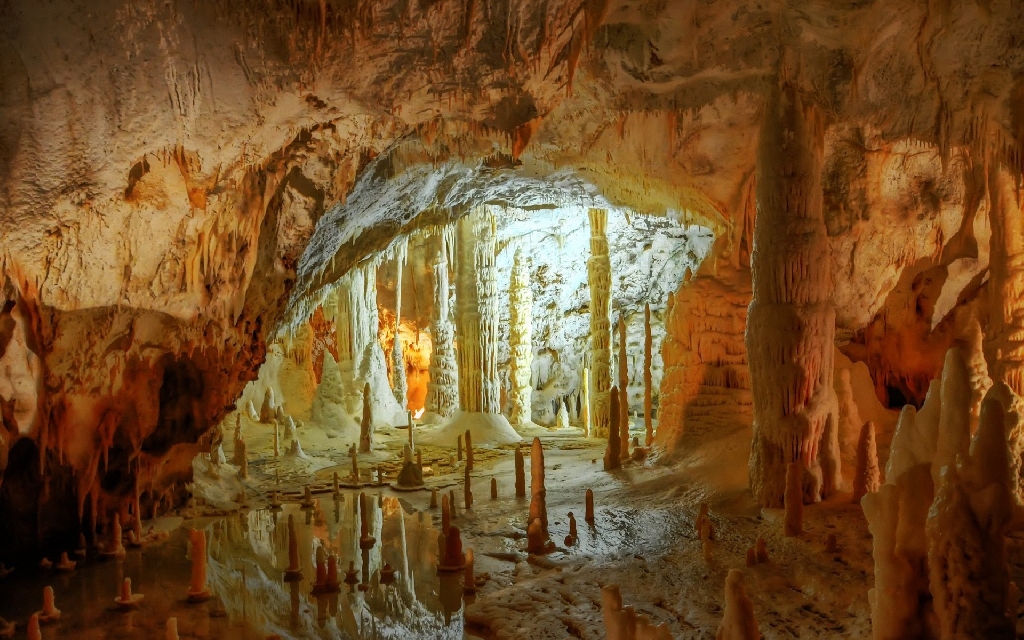 There are two options to choose from, the Blue Itinerary and the Red Itinerary. The first is relatively easy and lasts about two hours. Participants can experience climbing and touching the concretions; there is the risk of getting dirty, but of course it is advised to choose suitable clothing. The second is instead harder, more complicated and demanding, but at the same time more rewarding. It is specifically designed for nature lovers, lasts three hours and includes the passage in several tunnels.
The clothing for this kind of visit to the Frasassi Caves is included in the price and is made of a coloured jumpsuit, a hair cap, boots and a helmet with a headlamp. The latter is fundamental, considering that inside the cave it is completely dark. Bags and backpacks are not allowed as they might be more dangerous than useful. There is a locker room where participants can get changed; a camera is actually not very useful, if you cannot resist the temptation of taking pictures, you can use a mobile phone – always considering that the illumination is not really strong.
To book a speleological visit at the Frasassi Caves, please go to www.frasassi.com or write an email to booking@frasassi.com.
For a normal visit you can simply go to the ticket office about 30 minutes before the time you want to go in. The speleo cave tour is reserved for people above the age 12; bookings are compulsory for organizational and logistical reasons. The temperature inside the cave is around 14 degrees: therefore it is not too hot but not too warm. The speleo cave tour is not for everyone: for example, claustrophobic people should think carefully about it.