Marche parks and nature
Blog
Discovering the region Marche
Marche parks and nature
The state Natural Reserve of Gola del Furlo
Urbino 0000-00-00
Established in 2001, the Gola del Furlo State Natural Reserve extends over the territories of Urbino, Fossombrone, Fermignano, Cagli and Acqualagna; it owes its name to the Latin word "forulum", meaning "little hole". In the gorge, known since ancient times where it was most difficult to pass the Romans excavated two tunnels the first tunnel dates back to the first half of the 1st century A.D and can be entered only through a guided visit (in any case, it is visible from the road); the second tunnel is bigger and was finished on indication of emperor Vespasian in 76 A.D, and today is open not only to pedestrians, but to vehicles as well.
From the point of view of landscapes, this natural reserve definitely offers an interesting scenery, with its calcareous gorge that the river Candigliano eroded day after day, year after year, century after century. A geological history that began hundreds of million years ago; on the walls of the gorge it is possible to admire the oldest rocks, while the upper formations of Red Ammonite and Majolica can be appreciated while going uphill to Mount Pietralata.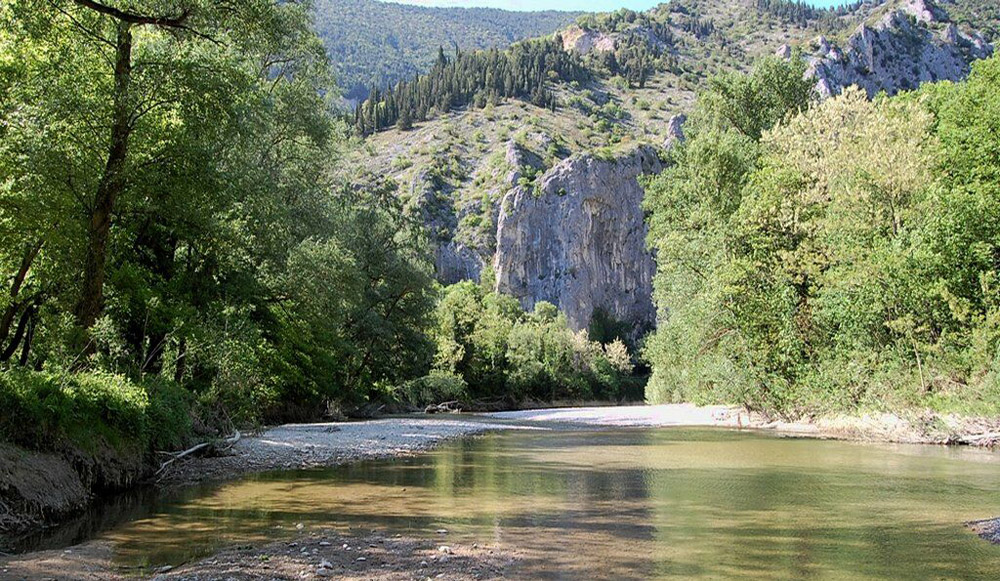 Besides being interesting for geology enthusiasts, the location is suitable for all nature lovers, thanks to the several fauna species to be found: there are plenty of birds of prey, for example. In the reserve there is a couple of golden eagles, while the peregrine hawk nests in rock walls. European honey buzzards and kestrels, on the contrary, prefer grass land an area chosen also by Montagu's harriers and common buzzards. Besides birds, the Italian wolf deserves a special mention; as the name says, it is the undisputed king of the woods, where it hunts fallow deer, roe deer and even wild boar.
The vegetation of Candigliano river attracts shorebirds such as black-crowned night herons, little egrets and grey herons. Among reptiles, the Italian three-toed skink, the asp viper, the Aesculapian snake and the four-lined snake stand out. As far as the sea fauna is concerned, you can find freshwater crabs, bleaks and Italian chubs.
How about plants? Gola del Furlo State Natural Reserve is a reference point also for people who love contact with vegetation, one can find some pretty rare species such as Campanula tanfanii, Muscari tenuiflorum and Moehringia papulosa.
Lastly in the grassland peaks there are umbrellifers and legume plants, but above all several types of orchids, including Orchis militaris and Roman Dactylorhiza.
It is therefore a scenery worthy of being discovered, explored and enjoyed in the region of Le Marche, a territory always rich in opportunities and surprises.