Marche itineraries
Blog
Discovering the region Marche
Marche itineraries
A walk in Carpegna
Carpegna 0000-00-00
Visit Carpegna, a tourist itinerary in the Marche
If you have in mind to organize one or more itineraries in the Marche, it can be interesting to include Carpegna, a small town located in the mountains in the province of Pesaro and Urbino, about one hour drive away from Rimini. This small town in the Regional Natural Park of Sasso Simone e Simoncello, has tranquility as one of its points of strength and it is located at the foot of Mount Carpegna: even if it's just 750 metres, it is high enough to make it a much-appreciated ski resort.
If you are going on holiday in the Marche with small children, Carpegna is the ideal destination also thanks to Cantoniera, a large grass area including a children's playground. It is possible to have a picnic there; at the same time, the woods nearby offer the chance to discover vegetation, under the shade of trees and branches.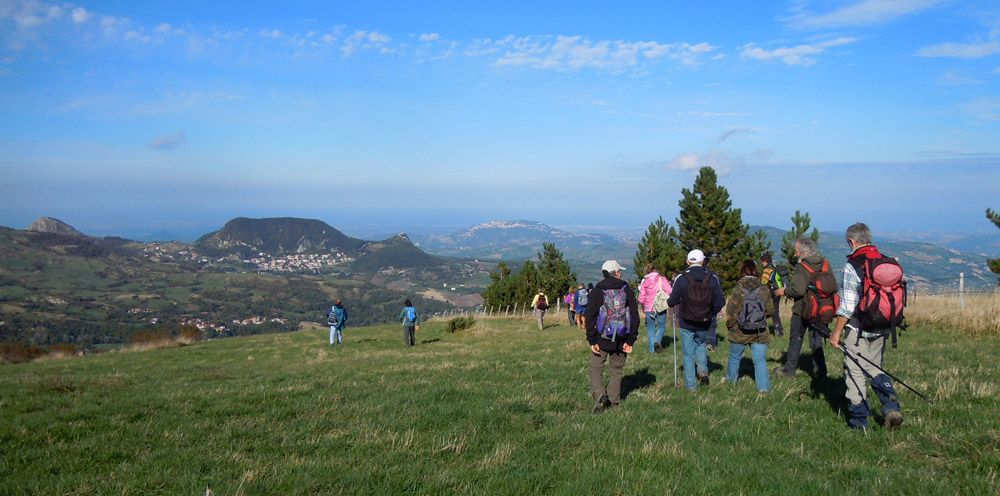 Carpegna is also a reference point for those looking for noteworthy historical itineraries in the Marche.
The credit for this belongs to the Counts of Carpegna, whose history began in 962 with Ulderico di Carpegna, endowed by emperor Otto Ist with the right to govern that territory, along with other feuds in Romagna and Montefeltro. This is how the jurisdiction of the counts of Carpegna expand, extending to Massa Trabaria and reaching the high Valtiberina, between Romagna, Marche, Tuscany and Umbria. In more recent times, Carpegna achieved a certain popularity in the early 1960s because of a phenomenon considered mysterious: the bells of the church of San Nicolò, dating back to the 17th century, apparently rang even if they were standing still. The phenomenon was actually strange and attracted not only curious people, but also experts and researchers, but it came to an end within a year and has not taken place since then. This is how the legend spread, also because no-one has ever been able to explain the origin of these episodes: moreover, all witnesses reported different versions.
Carpegna is also worth a visit during the holiday period in the Marche for its many monuments: for example, Palazzo Palazzo dei Principi di Carpegna Falconieri standing in the town centre, planned by Giovanni Antonio de' Rossi upon request of Cardinal Gaspare di Carpegna and built from 1675. It is still inhabited by descendants of the family and after more than three centuries it is still intact, despite being hit by fires and earthquakes. Another interesting places to visit is the Pieve di San Giovanni Battista, about two km from the town centre: a church dating back as far as 1100 and that still keeps the Romanic style, despite the several restorations it went through and that partially changed its original aspect.