Marche parks and nature
Blog
Discovering the region Marche
Marche parks and nature
Nature and parks in the Marche: the lake of Fiastra
Fiastra (MC) 0000-00-00
Those who want to discover the magic and beauties of natural parks in the Marche must write down in their notebook the name of the lake of Fiastra. It is the biggest regional hydroelectric reservoir, located in a wide basin framed by hills which bring to life a breathtaking view at 685 metres above sea level, at the feet of the Sibillini Mountains. Nearby the lake, there are ad-hoc rest areas, with camper parking and campsites that can satisfy all tourists' and visitors' needs. There are also parking places around the many bathing areas.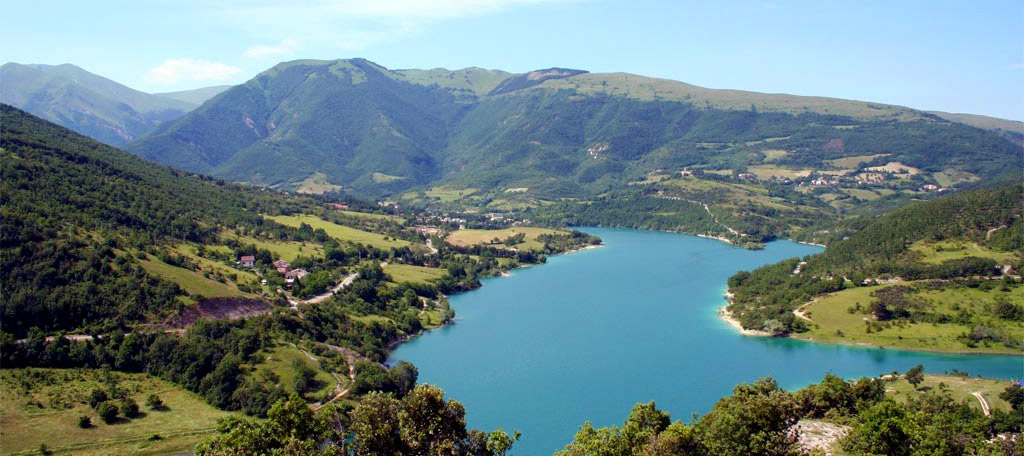 What makes the lake of Fiastra unique among the parks in the Marche is its little main beach, called San Lorenzo al Lago, offering enchanting scenery, to say the least: if you want, you can also bathe, since there is a lifeguard to protect the safety of children and adults. There is also the possibility of going to the free beach, with plenty of room to relax, sunbathe or have fun. The highlight of this location is represented by the clean and pure waters, with a intense blue colour that resembles a picture postcard view. It is, therefore, a real alternative to the beaches and the coasts of the Adriatic Sea.
There are few natural parks in the Marche that can boast such success compared to that of the lake of Fiastra: the credit also belongs to the Adventure Park on the Lake, where several open-air activities are organized, ranging from archery to boat tours amongst, without forgetting the cableway, that allows an easy passage from one lake shore to the other. And this is not all, as the bravest visitors can also enjoy a flight on a two-seater paraglider. Activities are potentially endless: you can practice, of course, water sports, as well as going on excursions and Nordic walking. Those who cannot be without their bike, can hop on a mountain bike and ride along the lake perimeter, and maybe also venture a bit into the mountains; for those who love fishing and then eating what they have caught, there are several barbeque grills available.
There is, therefore, something to suit everyone's tastes in the parks of the Marche, and this location is not an exception: during the summer you can rent a pedalo or a canoe, as well as practice sailing, in winter you can take part in a snowshoe walking or give skiing a try. There are so many opportunities, including the beautiful Sentiero Natura, which is the promenade that, starting from San Lorenzo al Lago, on the right side of the exceptional body of water.