Marche Art and culture
Blog
Discovering the region Marche
Marche Art and culture
Loreto, spirituality in the Marche
Loreto 0000-00-00
Among the spiritual paths of the Marche you can't help but visit the city of Loreto, which, over the course of the years, developed around the famous basilica of the Holy House of Nazareth. There, according to tradition, is where Mary was born, lived and received the visit of archangel Gabriel, who announced the miraculous birth of Jesus.
What is the Holy House of Nazareth doing in the Marche? Legend has it that at the end of the 13th century, when Christians, who also wanted to reconquer Nazareth, were definitively expelled from Jerusalem by Muslims, the House was lifted by a group of angels and was flown, following a series of peregrinations, to Loreto: this is also the reason why the Madonna of Loreto is venerated as patron of aviators.
As far as the history of the basilica is concerned, it was built thanks to the intervention of famous architects of the past, among which Antonio da Sangallo the Younger, Francesco di Giorgio Martini, Giuliano da Maiano, Andrea Sansovino and Braccio Pontelli, besides Donato Bramante and Giuliano da Sangallo. For the first few years of the 16th century, the sanctuary was placed under the direct control of the Holy See, during Julius II's pontificate, while Loreto was created a diocese at the end of the same century by Sixtus V, in whose honour a bronze statue was erected by Tiburzio Vergelli and Antonio Calcagni; the statue still stands on the side of the entrance to the building.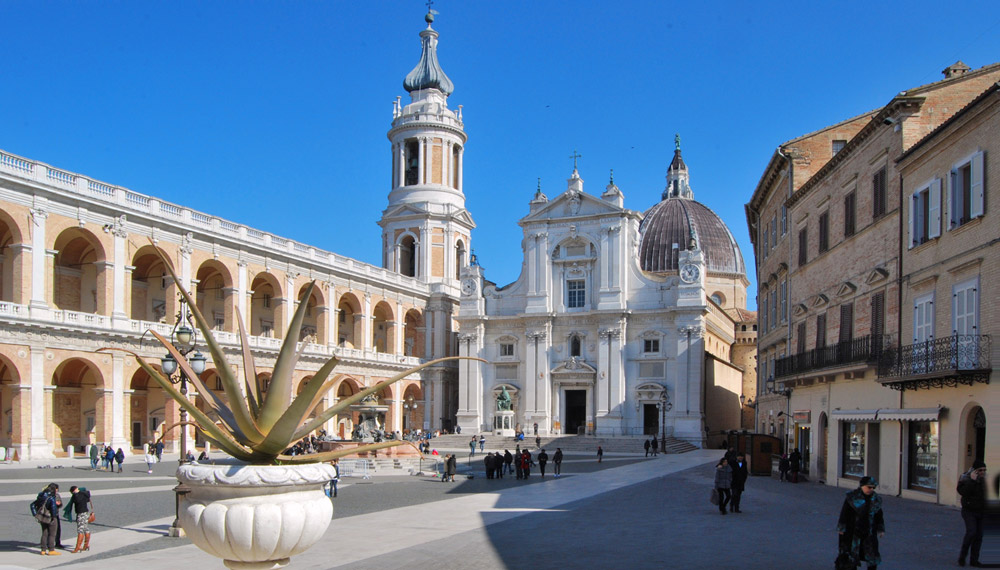 The octagonal-shaped dome of the Basilica of Loreto was created by Giuliano da Sangallo, and was built between the end of the 15th and the beginning 16th century: on the top of the dome lantern, is located a statue dedicated to the Virgin, made in gilt embossed copper. Among the many historic, artistic and religious reasons of interest, the bell tower, erected by Luigi Vanvitelli in 1755, is worth mentioning, while under the dome, is located the sacellum of the Holy House, a little big masterpiece dating back to the 16th century with its reliefs and marbles, to adorn its marble lining..
Federico Zuccari frescoed the Cappella dell'Annuciazione (Chapel of the Annunciation),
while Luca Signorelli and Melozzo da Forlì worked on St. John's and St. Mark's sacristy; finally, Pomarancio worked on the pavilion and the ceiling of the Sala del Tesoro (Treasure Room).
Therefore, the Sanctuary of Loreto is not only a reference point for Catholics and Christians, but also for all those who want to appreciate the many examples of our country's history of art – an example of this is a silver crucifix by Giambologna, kept in the Treasury of the Holy House.