Marche parks and nature
Blog
Discovering the region Marche
Marche parks and nature
The Monte Conero Regional Park
Conero 0000-00-00
Spread over the territories of Sirolo, Numana, Camerano and Ancona, the Mount Conero Regional Park was established in 1987; it was awarded the certification of the European Charter for sustainable tourism in protected areas. It is an area that every day attracts bird watching enthusiasts, especially during the migration of birds of prey: on the cliffs nest several birds, including kestrels, peregrine hawks, Sardinian warblers, sparrows, blue rock thrushes, great spotted woodpeckers and cormorants. Fauna is therefore varied, and not only as far as birds are concerned: foxes, hedgehogs, least weasels, European badgers and above all European polecats show how nature, in this land, reigns uncontested. Also the flora is diverse, with fennel, hoary stock and tree spurge as its main protagonists.
After all, Mount Conero's high, steep walls would be enough to enchant and intrigue tourists; its crags plunging straight into the sea and the evocative panoramic views are the joy of amateur and professional photographers. Coves of the Adriatic sea can be reached through the different beaches in the park, which have easy access by sea or on foot. There are, in fact, many trails available: you can enjoy a pleasant walk, a ride on a mountain bike, a horse ride or trekking.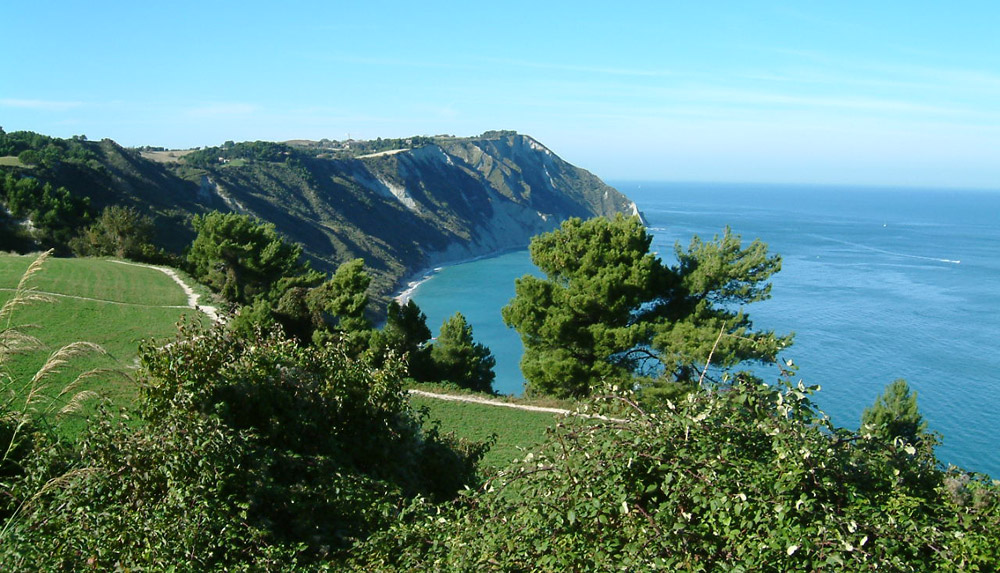 One of Mount Conero Regional Park's strengths are undoubtedly its rock walls, ideal for free climbing, but also water skiing lovers can find something right up their street; thanks to the crystal clear sea water, it is possible to practice kite surfing, wind surfing, sailing, diving as well as recreational fishing.
For a delicious break, you can taste some local oil, but this land is also known for honey and, above all, for Portonovo mussels: "moscioli", as they are known, are a Slow Food presidium. Speaking about acknowledged excellence, how can we not mention Rosso Conero DOC?
Ranging from gastronomy to art, archaeology to nature, there are so many reasons to discover Mount Conero and its park: one of the destinations not to miss is the world- renowned former Massignano quarry, while the Romanesque church of Santa Maria di Portonovo is an amazing example of religious architecture. Archaeologists are also spoilt for choice: from Roman caves to rock carvings, including the Picentes necropolis in Sirolo and the Torre Clementina in Portonovo, a defensive structure of great historical importance.