Marche Events
Marche Events
Marche: Santa's Magic World in Pergola
Pergola 0000-00-00
Amongst the events in the Marche, the most awaited by children every year is Santa's Magic World, taking place from November until January in Pergola, in the province of Pesaro Urbino: an extraordinary opportunity to have fun, thanks to creative laboratories, surprises and animated reading sessions. Set up in Corso Matteotti, next to the town tower, the event is organised by the Bookshop Guidarelli Focus & Meeting and by the Cultural Association, Il Topo Con Gli Occhiali.
Events in the Marche: animations and Christmas celebrations
The Christmas Magic World is open daily and can be visited as many times as you wish. In particular, on Sundays there are scheduled animated events and celebrations, but also during the week there are several occasions for children and adults to have fun, thanks to the elves and the many organized activities. On Fridays, for example, the key meeting is the children's reading session, whilst on Saturdays and on Sundays there are creative laboratories for kids, as well as for their mothers.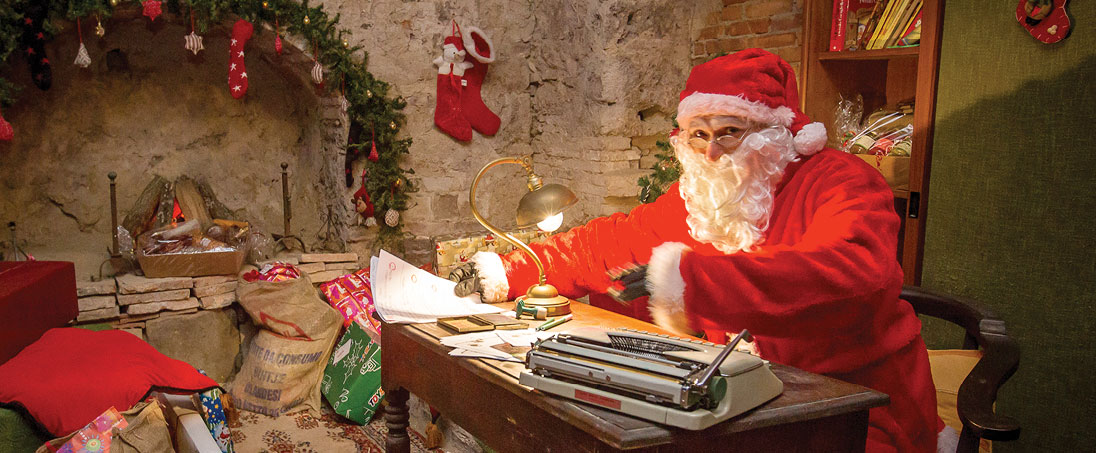 The Christmas period is therefore lively and carefree: Santa's Magic World is one the most surprising and joyful events in the Marche for children and young people of all ages. Another important aspect is the location: as it is completely indoors, there is no need to worry if outside it is raining, snowing or if temperatures are below zero. In addition, access is free; only very few of its several scheduled attractions require an admission fee.
The most joyful event in the Marche
Santa's Magic World is an event set up to celebrate one of the most charming Christmas characters. An attraction not to miss is the elves laboratory, where guests can prepare decorations and Christmas cards, write letters, play with placecards and bookmarks. Children can therefore write letters directly to Santa and leave them in Santa's Cave, located downstairs, where they can also lose themselves in the animated reading sessions. Upstairs there is located the Master Elf's Workshop, with laboratories for kids who can keep themselves occupied with elaborate activities, in their parents' company as well, if needed. Of course in such a space the post office is a must, in order to send out the letter with one's wish list. There are even more surprises, as next to the Workshop is located Santa's Kitchen, with delicacies, cookies, exceptional snacks and very particular food samples. Adults will not be left empty-handed, as for them, there is planned some aperitifs based on the tastiest and most inviting local products of the Marche. Other events not to be missed are presentations of books by prestigious authors.