Marche Art and culture
Blog
Discovering the region Marche
Marche Art and culture
The Cathedral of St. Peter Apostle
Senigallia 0000-00-00
A visit to Senigallia means the chance of discovering wonderful sea, uncontaminated beaches and the wide offer of artistic and cultural events, but it also means enjoying a superb example of religious architecture, such as the Cathedral of St. Peter Apostle. Located in Piazza Giuseppe Garibaldi, the building is the city's Duomo: it is a historical complex that is actually built on existing churches; specifically, on a Jesuit church. Erected between 1762 and 1790, over the course of the centuries the cathedral underwent a series of interventions and several modifications: for example, its façade was completed only in the second half of the 19th century on the basis of the project by Augusto Innocenti, thanks to the subsidies made available by Pope Pius IX, who hailed from Senigallia. It must be also noted that the area is highly seismic and several earthquakes struck Senigallia, therefore causing damages to the Cathedral of St. Peter Apostle that led to multiple restorations. Among the several interesting areas in the Duomo of Senigallia there is the sacristy, where there is a sarcophagus dating back to the sixth century AD: it is the so-called sarcophagus of St. Gaudenzio. On the four corners of its lid are represented the symbols of the four evangelists, that is the ox for Luke, the angel for Matthew, the eagle for John and the lion for Mark. According to an inscription, in 590 Sigismondo, the city bishop, laid the relics of St. Gaudenzio inside the sarcophagus; they were stolen during the first half of the 16th century and later brought to Ostra.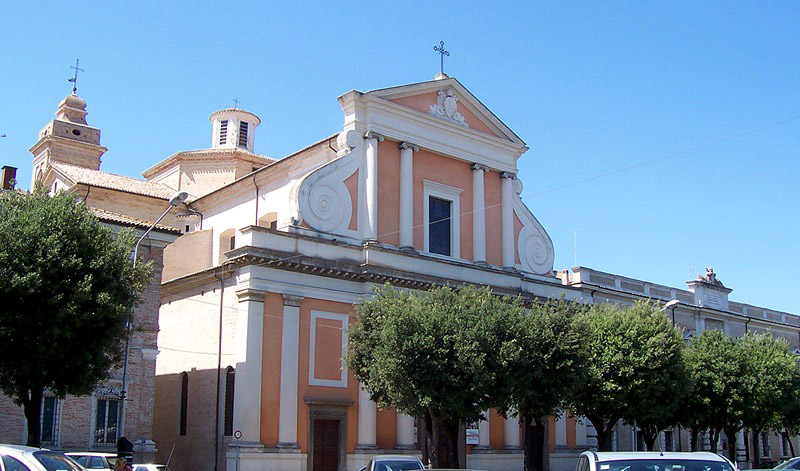 Another strong point of the Cathedral of St. Peter Apostle is its elliptic chapel dedicated to Our Lady of the Hope, a work by architect Giuseppe Ferroni. Dating back to the first half of the 16th century, it stands out for its eight Corinthian columns with a basement in yellow marble and Sicilian jasper on the outside; inside there is Our Lady of Hope.
The inside of the religious building shows a Latin cross plan; among the many works of art decorating it, the following are worth mentioning: "St. Paolino and Mary Madgalene" by Domenico Corvi; " Rest during the flight to Egypt" by Federico Barocci, "Assumption of the Virgin" by Alessandro Tiarini and the above mentioned "Our Lady of Hope" by Ercole Ramazzani. In the central nave (there are three naves in total, each divided by pillars), there is a bronze statue representing Pius IX. In summary, the cathedral is a reference point not only for the Senigallia diocese, but for all Italian and foreign tourists, or visitors from the Marche itself, who want to take a closer look at it.