Marche Events
Marche Events
The Magic Castle of Gradara
Gradara 0000-00-00
The Castle of Gradara is an evoking building immersed in history: those who have the chance of visiting it can only remain favourably impressed. Among the several events organized to promote and make it known to tourists, the most famous is the Magic Castle of Gradara, scheduled in August: an event based on games, animations and all kinds of shows that turn the village into a sort of enchanted scenario. A meeting dedicated to adults and children, with kids as main protagonists; at the same time the grown-ups can go back in time and retrieve the innocence and candour of their childhood. With its intriguing scents, unusual visions and fascinating lights, The Magic Castle of Gradara creates a dreamlike atmosphere, with new themes every year.
From early in the morning until late in the night, the old walls of the village are filled with colours and come to life, while shadows almost turn into butterflies: on the other hand, such a spectacular location can only make the imagination go wild and unleash creativity. Therefore in the castle there are arranged areas such as the Garden of Dancing Fairies, the Emerald Woods, but also the Wolf's Den and the Dragon's Cove – but that's not all: the Barefoot Palace, the Road at the Bottom of the Sea and the Magic Workshop: these are the settings where everyone can spend carefree times.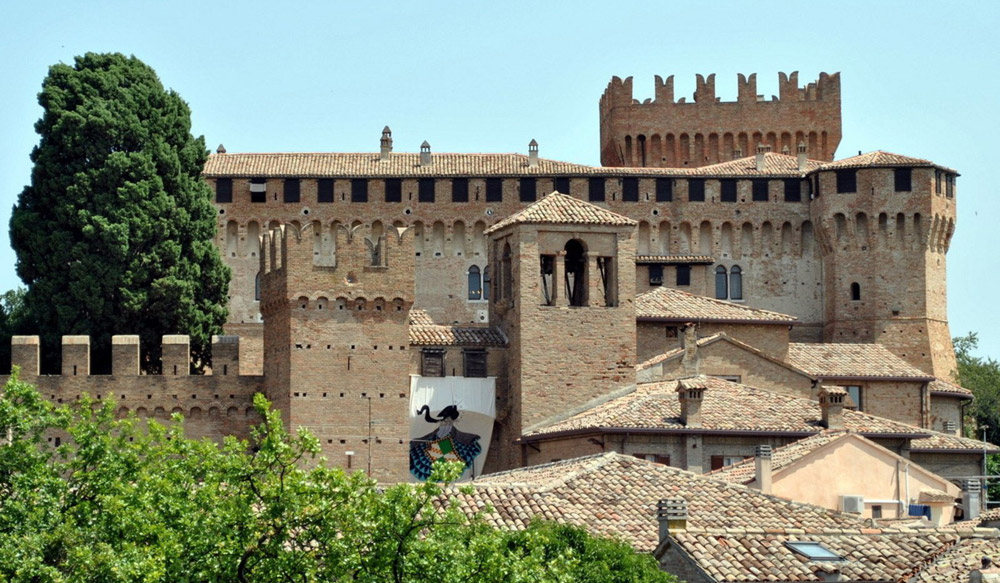 The Magic of Castle Gradara is therefore an event to make the experience at the Gradara Castle lively and unique: there is also a baby corner available, that is a space dedicated to mothers who must breastfeed their babies, or change their diapers. Parents can also leave the strollers in storage, renting at the same time baby carriers. Last but not least, this wonderful building can be visited also by dog owners: at the dog corner, they can rent leashes and muzzles, which have to be used during the days of the event.
The fortress of Gradara stands on a hill located 142 metres above sea level, only 3 km from the Adriatic coast and a bit more than ten km from Pesaro. Once you cross the drawbridge, you enter into a prestigious courtyard and then access the inner rooms, exhibiting the splendour of the Malatestas, Sforzas and Della Roveres, the prominent families that once governed the area. The village of Gradara is located between the first and second line of walls: according to the legend, it seems that this is where the tragedy of Paolo and Francesca took place.