Marche itineraries
Blog
Discovering the region Marche
Marche itineraries
Arcevia, a treasure of the Marche
Arcevia 0000-00-00
Among the destinations of the Marche most appreciated by Italian tourists (and not only) there is undoubtedly Arcevia, located on Mount Chisciano, just a few km drive away from Senigallia's Velvet Beach. The village, protected by its imposing city walls dating back to the 14th century, owes its fame to this fortification, of which four gates and some defensive towers are still standing and which can be discovered in many ways.
Actually there are several interesting reasons to visit Arcevia, starting from, for example, the Centro Culturale di San Francesco (St. Francis's Cultural Centre), hosted in a centuries-old Franciscan monastery, where it is still possible to admire the church and the Renaissance cloister: the cellars of the monastery were turned into exhibition areas, while in the basement is located the conference room. As far as the religious architecture is concerned, the Baroque Collegiata di San Medardo should not be missed; it dates back to the early Thirteenth century at least, and is named after San Quentin's bishop St. Medardus, particularly venerated in France. Inside the building there are several precious and prestigious works of art, including Christ's Baptism and the Polyptych of St. Medardus, realized by Renaissance artist Luca Signorelli at the beginning of the 16th century, as well as the Madonna with Child among St. John and St. Jerome, a reredos in glazed terracotta by Giovanni della Robbia, famous representative of the Florentine workshop.
This is not all: the Baroque Collegiata di S. Medardo also hosts the wooden furniture by Francesco Giglioli and Leonardo Scaglia, Italian master wood carvers working in the area around mid-Seventeenth century, and The Madonna del Rosario with St. Dominic and St. Catherine of Siena by Simone Cantarini il Pesarese. Lastly, it is also worth mentioning the Universal Judgement and Christ's Baptism by Ercole Ramazzani, Lorenzo Lotto's pupil, and a Madonna with Child by Venanzio da Camerino and Piergentile da Matelica.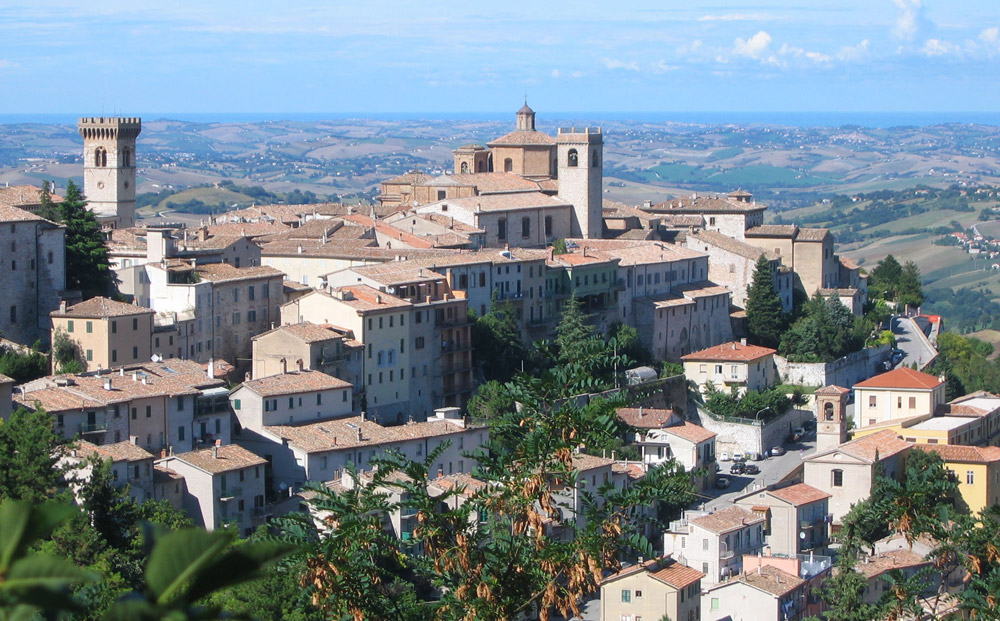 During a walk in Arcevia you can also see the Misa Theatre, built between 1840 and 1845 in the Palazzo dei Priori, but above all the nine castles of Arcevia: Palazzo, Avacelli, S. Pietro, Piticchio, Loretello, Caudino, Montale, Castiglioni e Nidastore, which are undoubtedly the most important attractions of the village as they kept their fourteenth-century structure intact.
Visitors can also have fun thanks to the several events taking place in the town: for example, 'Arcevia International Art Festival, held between August and September, but also the Festa dell'Uva (Festival of Grapes), scheduled during the last weekend in September; Arcevia Jazz between July and August, and the Festa d'Autunno, held in the Castle of Piticchio during the second weekend in November.
You are spoilt for choice!