Marche itineraries
Blog
Discovering the region Marche
Marche itineraries
The marvels of Recanati
Recanati 0000-00-00
Known worldwide as Giacomo Leopardi's hometown, Recanati is actually a tourist location offering a wide range of attractions. Located right in the middle of the Marche, halfway inland from the coast, it deserves the title of balcony city, thanks to the breath-taking views it offers. Not only Leopardi, but also the famous lyric singer Beniamino Gigli was born here, in Recanati: a land where, without a doubt, art is like oxygen.
The attractions which capture one`s attention the most are those linked to Leopardi a good start, for example, is the little piazza Sabato del Villaggio overlooking the poet's birthplace , Palazzo Leopardi, that hosts a valuable library including more than 20.000 books. The peak of Mount Tabor should also not be missed; it is the Hill of Infinite, that inspired Leopardi`s composition of L'Infinito (The infinite) when he was only 21years old. Within short distance, you can find the World's Centre for Poetry and Culture, the Torre del Passero Solitario (Tower of the Lonely Sparrow) inside the courtyard of the cloister of Sant'Agostino and Leopardi's mother's house, Palazzo Antici Mattei.
Another place which must be mentioned is the Centro Studi Leopardiani as it represents the worldwide point of reference for all initiatives related to the poet.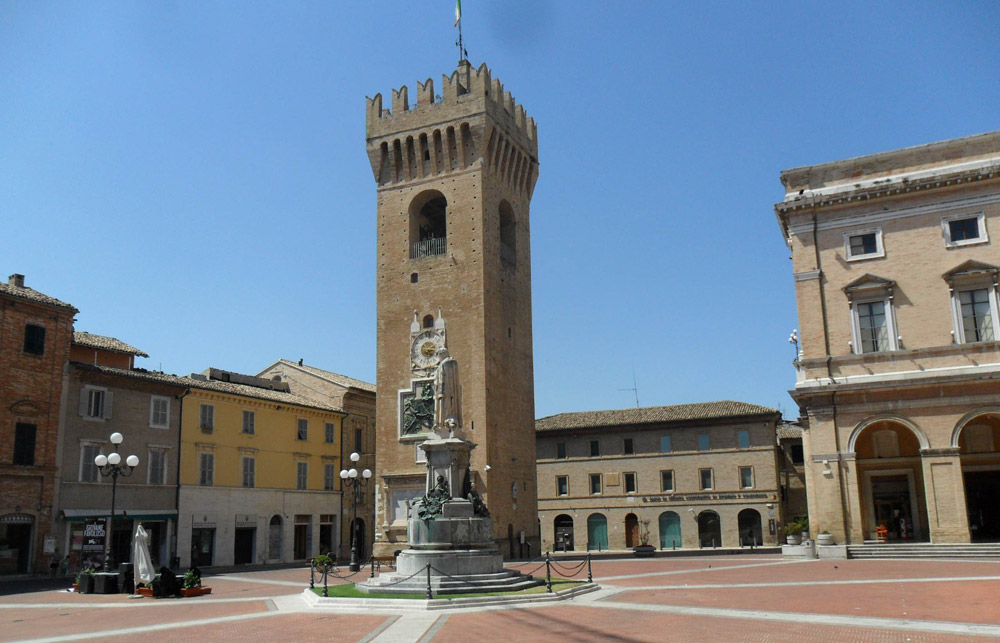 After all, Recanati is a land of great traditions handed down from generation to generation. Also in the cuisine sector: a demonstration of that, for example, are piccicasanti: a sort of thick soup featuring a unique taste. Gastronomy enthusiasts can satisfy their taste also with the local extra virgin olive oil, pork-based products and the main meat dishes all this sipping a glass of high quality Colli Maceratesi DOC and Rosso Piceno DOC wine.
Last but not least, Recanati is loved also by those interested in religious buildings and their history: the Church and Monastery of Capuchin Friars, for example, date back to the 17th century, while in the Church of San Domenico it is possible to admire Lorenzo Lotto's fresco San Vincenzo Ferrer In Gloria. Worthy of a mention are also the Church of Santa Maria Morello, where Leopardi was baptized, and the Church of Sant'Agostino, with its portal in Istrian stone by Benedetto da Maiano. Examples of religious architecture in Recanati territory are therefore many and varied, as well as those of civil architecture: as is the case of the Neoclassical Palazzo Comunale (Town Hall), built to celebrate Leopardi's 100 birthday, but also of Palazzo Venieri, taking its name from cardinal Venieri who had it built on a project by Giuliano da Maiano. Villa Coloredo Mels is also interesting, as it hosts the Pinacoteca Comunale (city gallery).