Marche Events
Marche Events
The white truffle exhibition
Sant'Angelo in Vado 0000-00-00
Among the prestigious, not-to-be-missed events in the Marche, the most interesting surely is the National Show of Refined White Truffle of the Marche taking place yearly in Sant'Angelo in Vado: not only because it has been going on for more than fifty years, and it therefore relies on a deeply-rooted tradition, but also because it represents a convivial event aimed at promoting not just a regional excellence, but a national one. Driving up the territories where the river Metauro flows, you reach Sant'Angelo in Vado, once the capital of the ancient Massa Trabaria and still today a city where you can appreciate and admire the intact and uncontaminated nature. With its medieval towns still in perfect condition and the patchwork-like, brilliantly-coloured ploughed fields, this territory attracts tourists all throughout the years.
Sant'Angelo in Vado is undoubtedly a city rich in culture and art, immersed in history: a feature that not many places in the High Valley of Metauro and in the province of Pesaro and Urbino can boast. It is here that every year the White Truffle is celebrated: which is at the same time a pride and a symbol of this land. Between the end of the summer and the beginning of the autumn, the truffle gives the chance of a first-hand experience of the territory of Massa Trabaria, welcoming visitors with a dedicated exhibition. There's no better way to highlight such precious subterranean fungus, so beloved and so sought-after by cooks and chefs in the world, who are so looking forward to include it in their preparations and recipes!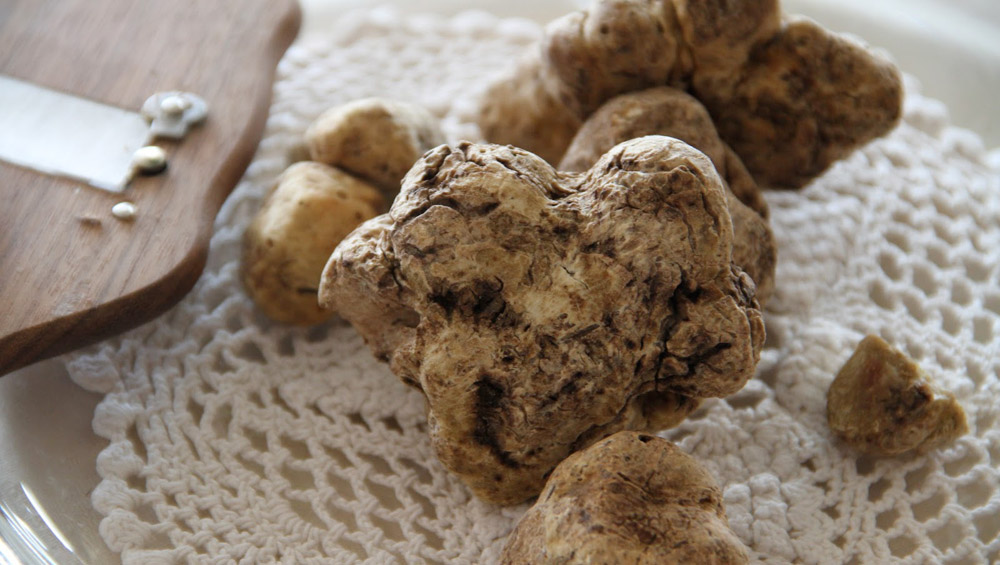 This is a precious product from underground that, according to Pliny the Elder was even a gift from heaven: the author speaks about it as a miracle of nature, a tuber that grows surrounded only by the earth. That is exact: since old times, truffle was eaten and praised so much so that Juvenal considered it the son of lightning. Therefore, the White Truffle Exhibition allows its guests to appreciate, smell, observe and taste with all senses the nuances, the details and peculiarities of such a product: an event that has been going on for decades in Sant'Angelo in Vado, the perfect location thanks to its richness in art and history, halfway between archaeology, environment, art and anthropology.
The exhibition is, in fact, located in the very heart of the town centre with the cooperation of the historical taverns and snack bars, where you can taste typical dishes. His majesty the white truffle is celebrated every year, while all the streets in the old city centre tell a tale that has been going on for so many years and is made not only of gastronomy, but also of craftsmanship.