VILLA COLLEPERE
Country house Matelica, Macerata
I wonder if you could quantify the sweetness or give a precise definition, the fact is Marilena embodies the essence, a refined sweetness so intense which invades Villa Collepere, mirror of her personality and that of her husband, Carlo, two people who have made this place their way of life. Before, the villa was a hunting lodge of the seventeenth century, and now they have chosen it to become the lovely place it is today.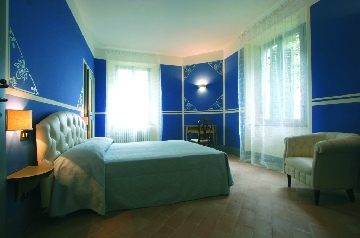 The blue, yellow and other colours of the rooms replicate the colours of Monti Azzurri, of wheat cultivated fields, of snowy mountains, everything you need to reconnect to the natural surroundings and with a view that takes my breath away. This feeling is even more intense if I go into the garden, nature is felt even more, it seems to be surrounded by a painting. What could be more beautiful than enjoying this relaxing swim in the swimming pool or being pampered by the bubbles of the hydromassage, and for me to be intoxicated by the scent of trees? And in the inner corner of the villa, they have created a small spa area, where you can warm up when perhaps outside it is a bit cooler. It is beautiful, cosy and intimate, you feel that your body lets go just entering it! Marilena and Carlo told me that they love their work, they take care of every detail and chat with their guests also until late at night, to make them feel at home, at home in their company, and I have to say they manage this well!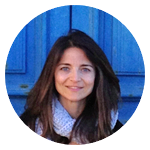 What struck me
The colours of the rooms which refer to the surroundings
The spa corner: intimate and refined
The gracefulness which spreads through each corner of the villa
BOOK ON-LINE
TYPE
COUNTRY HOUSE
SERVICES
WI-FI
SWIMMING POOL
DISABLED FRIENDLY
PETS ALLOWED
PARKING
SPA & WELLNESS CENTRE
BREAKFAST INCLUDED
TV
REQUEST
Forward information inquiry to "Villa Collepere"
Other accommodations near "Villa Collepere"