CASALE VEGA
Bed and breakfast San Lorenzo in Campo, Pesaro-Urbino
I leave the country road for San Lorenzo and I go up a hill on a side street immersed in splendid sunflowers. And it is just like this, you can simply turn a corner and find yourself in the most enchanting places! I arrive at the gate and waiting to welcome me to his home, Casale Vega, a white house, is Massimo who describes it as a lifestyle choice. As we stroll along the garden, he shows me how carefully he looks after his plants, he tells me that with his wife Silvia they decided to abandon two major cities like Rome and Milan to take charge of their lives and to live in peace and serenity.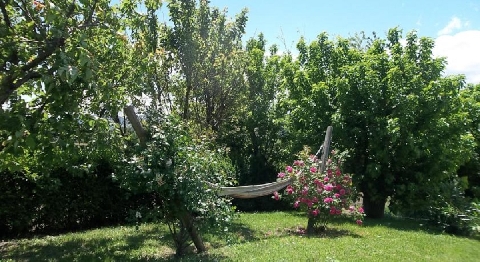 This choice of life, in fact, brought them to San Lorenzo, a village a few kilometers from the sea. This is poetry for my ears. The interior is furnished with style, antique terracotta tiled floors and furniture found in local second hand shops or during their travels around the world. On the ground floor, there is the living room and kitchen, where breakfast is served, it is abounding in family heirlooms and memories, whilst on the upper floor, which is accessed by an external staircase, there are the two bedrooms, the two jewels, one which overlooks a pergola of red jasmine flowers, the other overlooking a pergola of grape vines in a secluded corner of the house. These spots are also ideal for enjoying the early morning, sipping a delicious coffee, savoring nature and all that it offers. From one of the two rooms there is also a terrace where you can enjoy relaxing moments, contemplate the surrounding landscape or enjoy the starry sky.

I close my eyes and I think of how I would really like to be on the hammock, next to the roses which are in bloom, to let myself be taken away by the wind.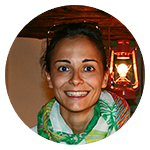 What struck me
The field of sunflowers surrounding the white house.
The old linen tablecloths, which give a touch of elegance to the portico where breakfast is served.
The refined style and the personal story which Massimo and Silvia bring with them.
TYPE
BED AND BREAKFAST
SERVICES
WI-FI
PETS ALLOWED
PARKING
BREAKFAST INCLUDED
REQUEST
Forward information inquiry to "Casale Vega"
Other accommodations near "Casale Vega"