CASTELLO DI MONTERADO
Historic accommodation/Castle Monterado, Ancona
I close my eyes and imagine taking a trip through times where Princes, Dames and Counts have unlimited access inside these walls. As soon as I enter the door, after the big green door at the entrance, I find myself surrounded by that coolness which distinguishes the buildings of yesteryear, the walls of which allow that nice pleasant temperature especially during the summer, I love it! The view opens onto the courtyard where immediately my eye catches the large windows which offer a glimpse of tasty products and I discover a small shop where you can spend a few hours sipping, sampling and buying beautiful culinary souvenirs.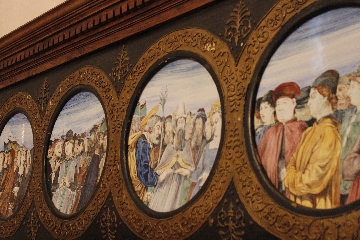 A staircase worthy of any self-respecting royal palace leads me to the rooms, what can I say of the beautiful suites. They are beautiful corners of past life, they look like small paintings that have captured the domestic life of this place. And what about the soft colours of the frescoes which cover the ceiling, works of art themselves, I raise my head and I am amazed. Orlando tells me of the history of the castle, of his ancestors, the passion and desire to restore this place and his choice to live here with his wife Kira and their two children. But the thing that I love the most? Breakfast. It already excites me walking through the different rooms to get to that of the breakfast room, a fire of beauty where frescoes, chandeliers and antique vases frame the large central table, full of goodies. But that's not all, a French door opens out onto a large terrace which overlooks the swimming pool and green hills that lead to the sea, I love these colours and the serenity of the landscape. Kira is always ready to prepare cappuccinos or whatever you would like.
Moving on from the rear garden, Orlando leads me to see the Residence Il Borgo, the building in front of the Castle where there are six modern apartments used as holiday homes. I could live there all year, nothing is missing and I must say that even I would have chosen the beautiful wooden floors and wooden beam lights. The cherry on the cake? The familiarity which you breathe. The simplicity and kindness of Orlando and Kira give you that sense of serenity and a friendly environment. I feel at home, in the real sense of the word.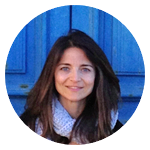 What struck me
To sleep and to stay in an historic building from the XVIII century with frescoes and authentic furnishings.
The breakfast with typical quality produce, served in the ancient frescoed dining room.
The big garden and pool with the views of the hills and sea on the horizon.
BOOK ON-LINE
TYPE
HISTORIC ACCOMMODATION/CASTLE
SERVICES
WI-FI
SWIMMING POOL
DISABLED FRIENDLY
PETS ALLOWED
AIR CONDITIONING
PARKING
BREAKFAST INCLUDED
TV
REQUEST
Forward information inquiry to "Castello di Monterado"
Other accommodations near "Castello di Monterado"