VILLA CENTOFINESTRE
Historic accommodation/Castle Filottrano, Ancona
Immersed in the Marche countryside, a big park hides from prying eyes. Therefore after having gone along the tree lined road, Villa Centofinestre leaves me almost breathless, when from the gate, I start to catch a glimpse of the majestic neoclassical façade.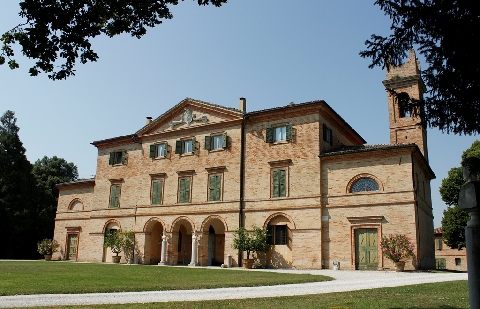 Wonder and awe accompany me throughout all of my stay: a careful restoration has retained the original charm of this aristocratic country residence. Marble, statues, frescos and pastel colors of a French taste are combined with terracotta and wooden floors and kilim rugs in timeless elegance.
The entrance and the rooms are extremely beautiful, it is very difficult for me to stop taking photos with my Canon … and what can I say of the big room on the first floor?
Simply … stunning! The light that filters through the large windows creates magical reflections on the impressive chandelier. It is impossible to not stop the fantasy which quickly runs to dance parties, weddings and special events.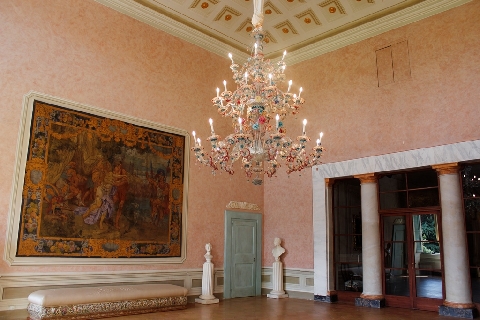 On the second floor, finally here is the space devoted to visitors. Yes, because Villa Centofinestre reopened its doors and it offers charming self-catering apartments for guests looking for an exclusive stay.
Dominating is the romantic style that acts as a leitmotif in any environment; the original furnishings have been maintained with the addition of all the modern comforts.
Outside are gardens and forests for you to enjoy which enable you to recharge, away from stress and city traffic. The icing on the cake is the outside pool where you can regenerate during the warmer season. But do not expect the classic hotel pool with mosaic tiles or bricks on the bottom! Here too, the lure of style of the villa is strong, including stone capitals, ancient terracotta tiles and wrought- iron sunbeds.
Even if you never want to leave, it is worth discovering the beauty of the surrounding area, rich in art towns and medieval villages including Offagna, Osimo, Recanati, Loreto, Montecassiano and Cingoli.
If you love the sea, you will be pleased to know that the beaches of Sirolo and Numana are only 30 km away.
Have a good trip!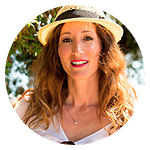 What struck me
The beauty and the majesty of the eighteenth-century building.
The neoclassic romantic style which makes you dream with open eyes.
The park, the forest and the external spaces, where one can regenerate in contact with nature.
TYPE
HISTORIC ACCOMMODATION/CASTLE
SERVICES
SWIMMING POOL
PARKING
KITCHEN
WASHING MACHINE
TOWELS
BED LINENS
TV
REQUEST
Forward information inquiry to "Villa Centofinestre "
Other accommodations near "Villa Centofinestre "