VILLA CLELIA
Agritourism Sirolo, Ancona
I drive along the main road, on a beautiful May morning. On both sides of the road, there are lined cultivated fields and deep colors which anticipate the summer. Surprisingly it is easy to smile and feel immediately lighter. To my left I pass the Conero Golf course, I continue a little bit more and after a few minutes, I cross a small road surrounded by greenery and I finally arrive at Villa Clelia. Before entering I allow myself a short walk in the garden: a beautiful wrought iron gazebo, a blaze of colorful flowers which alternate the borders, an outdoor swimming pool. Who would not allow themselves to enjoy this deserved relaxation and be lulled by this serenity?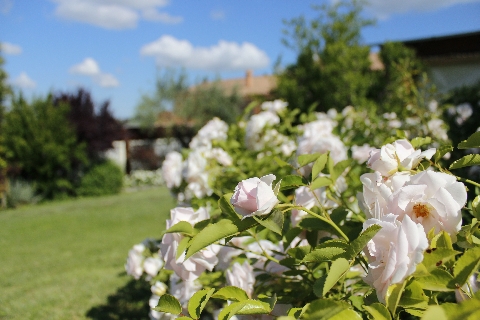 Chiara is one of those people who knows how to make you feel immediately at home, she greets me with a smile and takes me to visit the Country House, where events and weddings are often hosted. The rooms of Villa Clelia are very pretty and well decorated, all different, each with its own style and a predominant color (which gives its name to the room) in some cases. From windows and balconies, views of the Marche countryside and the neighboring villages are enchanting. Every morning you can also admire the pool, where a hearty breakfast is served.
And speaking of eating, given that "food is at the root of its territory", as Jean Brunhes said, it would be a shame to miss the dinner specialties which are prepared by Lorenza and Matteo. Delicious dishes based on fresh fish, recipes rich in tradition, homemade pasta. And to drink? The wine list offers a selection of wines produced in the Marche, of course! The choice is yours – a good glass of Verdicchio, a Rosso Conero or Piceno Superiore.
To make everything special is the welcome offered by a family run business. In short, all the elements for an unforgettable stay are here. And I still have not told you that we are in the countryside, but only 2 km from Sirolo , Conero Park and its renowned beaches!
Have a pleasant trip!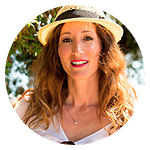 What struck me
The charming exterior, the garden and the pool with a view.
The specialties of the area and the fish dishes : excellent !
The welcome and relaxed informal atmosphere.
Via Piane dell'Aspio, 5A
60020 Sirolo - AN
BOOK ON-LINE
TYPE
AGRITOURISM
SERVICES
WI-FI
SWIMMING POOL
DISABLED FRIENDLY
PETS ALLOWED
AIR CONDITIONING
PARKING
RESTAURANT
BREAKFAST INCLUDED
TV
REQUEST
Forward information inquiry to "Villa Clelia "
Other accommodations near "Villa Clelia "