HOTEL ROMA
3 star hotel Grottammare, Ascoli Piceno
The sky is blue and the sun is shining, it is mid-May and on the seafront of Grottammare there are those who are already sunbathing in costumes, those who are walking or running along the seashore, those who are chatting with their friends on the areas of lawn along the seafront and those who are photographing the actors of a film set of an Italian film that is being made. Amidst this happy and relaxing scent of summer, Hotel Roma stands out in its bright white colour and its large windows which give light to what can only be described as a modern art gallery!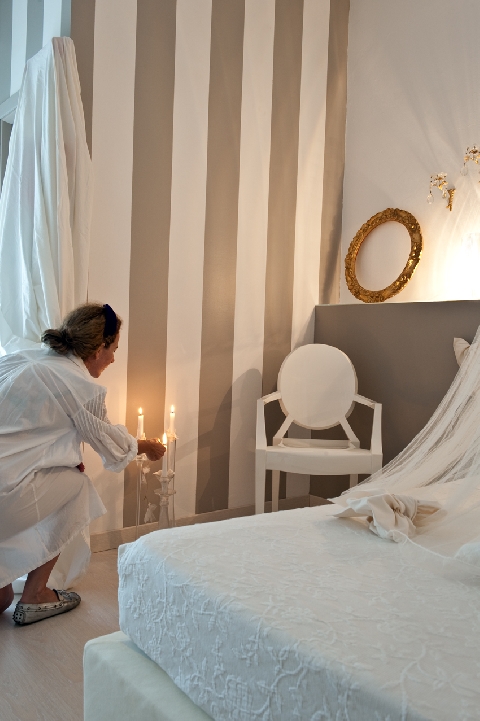 That's right, just as I cross the entrance, I become captured by the beauty of so many objects, it is like being at a fine art exhibition with objects carefully selected by Brunella : items only just found and reproduced with a modern twist and some of them with the addition of pastel colors which give that touch of design to this context of a white background and of great taste. Brunella has that sense of calmness and elegance, of one who loves to be surrounded by a world of art and peace and whose own life is a reflection of themselves : frames here and there, bright pictures from a variety of artists simply placed as if by chance, chandeliers not always just hanging from the ceiling, pieces of furniture taken from secondhand shops and brought back to life, parts of the walls colourful and striped, always with the white background dominating every single corner. Brunella takes me around this place of enchantment whilst her daughter plays with their two fantastic Golden Retriever's who are assigned with welcoming people. The corridors of the rooms are also real art galleries. The rooms follow that taste and design of a predominately white colour but here there are also little details: a colorful picture or a violet bedside table or a wall with various designs or hanging chairs.
The view from the terrace is a moment of pure exhilaration: the sea in front of me and the whole coast that is lost on the horizon. To be here at sunset sipping on a drink, is all that you need. What is there to say; art, sea and style which all merge together!!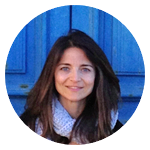 What struck me
The design: white everywhere as the background, found objects scattered here and there and the color creating a type of modern art gallery
The paintings: so many and everywhere, colorful and which inevitably catch your eye
The terrace with its view of the blue sea
TYPE
3 STAR HOTEL
SERVICES
WI-FI
DISABLED FRIENDLY
PETS ALLOWED
AIR CONDITIONING
PARKING
RESTAURANT
BREAKFAST INCLUDED
TV
REQUEST
Forward information inquiry to "Hotel Roma "
Other accommodations near "Hotel Roma "