IL PORTICO
Bed and breakfast Fano, Pesaro-Urbino
Yes, every now and then I allow myself a tasty pizza or fresh fish at this venue, it is one of those places that I recommend especially to people who are not from this area ask me, "where can I go to eat ? " Because on these occasions you always want to give a certain guarantee of quality and make a good impression even if you do not know the people. I drive along the main Adriatic road towards the north, on the right there is the sea and on the left there is a small country road and from there a signpost leads you a few meters to the Portico. There waiting for you is Norman, with his simplicity, he immediately puts you at ease in a nice and welcoming manner. Here in front of you, there is an elegant white house surrounded by a green hedge, creating an oasis of peace in the midst of cultivated fields.
Downstairs is the restaurant and the breakfast room, well lit up thanks to the large windows overlooking the landscaped garden and swimming pool with its relaxation area for sunbathing or maybe to have a drink at sunset .
The rooms seem like small lofts in a Nordic style, functional and modern, but also with restored pieces like colored doors in the same color that predominates the room. The doors struck me right away, it could not be otherwise, given my love for creative restoration. In the mezzanine there is a bedroom and the great thing about these rooms is that the window is as big as the entire wall so even when you are in the mezzanine you have the outside view and this I love so much, one appears to sleep suspended in the middle of nature or in close contact with it.
I love the location of the Portico, in the middle of the countryside but a few steps away from the sea, on the Adriatic coast between the two stunning towns of Fano and Senigallia, there is a bit of everything really!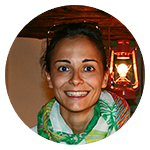 What struck me
The modern mezzanine rooms and the large windows.
The tasty cuisine based on fresh fish and pizza cooked in a wood oven.
The opportunity to take a dip either in the pool or at the beach, just choose, if not allow yourself to do both!
TYPE
BED AND BREAKFAST
SERVICES
WI-FI
SWIMMING POOL
PETS ALLOWED
AIR CONDITIONING
PARKING
RESTAURANT
BREAKFAST INCLUDED
TV
REQUEST
Forward information inquiry to "Il Portico"
Other accommodations near "Il Portico"