LOCANDA LA BRECCIA
Bed and breakfast San Costanzo, Pesaro-Urbino
A few kms from the sea, on a hill, along a track road, there is Locanda La Breccia, a little jewel which merges with the surrounding nature and to welcome me, Isabella, a person of great elegance and kindness who immediately shows her enthusiasm at my arrival.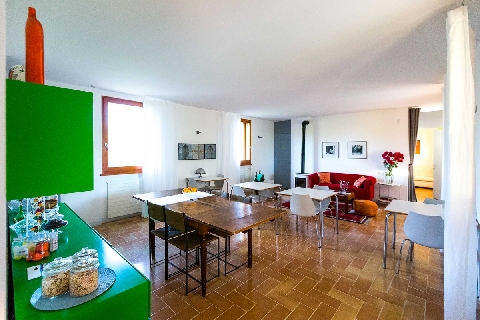 She accompanies me to discover the inside of this wonderful farmhouse in brick, attention paid to every last detail, with antique furnishings, such as the stove and the table which go perfectly with the more modern furniture in bright colors. Each room has a color that is the master and the view of the hills where you can enjoy the sunrise or the outdoor patio where is served a delicious breakfast and snacks or where you can wait for the sunset. Isabella soon transmits the passion for which she does this job and tells me of the warmth that she offers to her customers, such as offering homemade jams and pizzas which are cooked on an oven in the garden, and that can be enjoyed at the several tables positioned between mulberry trees and rose bushes or by the pool whilst observing the blue horizon of the sea.
The air we breathe is that of peace and tranquility, contact with nature, the lights reflecting on the cottage and the energy of Isabella which gives you that sense of inner well-being that we are all seeking. How wonderful!!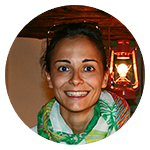 What struck me
The sense of tranquility of the patio, where one can enjoy the sound of nature.
The bright green dresser in the breakfast room with a wealth of homemade products.
The blend of modern trend and the unspoiled environment.
TYPE
BED AND BREAKFAST
SERVICES
WI-FI
SWIMMING POOL
DISABLED FRIENDLY
AIR CONDITIONING
PARKING
BREAKFAST INCLUDED
REQUEST
Forward information inquiry to "Locanda La Breccia"
Other accommodations near "Locanda La Breccia"